Zanan-e bedun-e mardan
Shirin Neshat's film, set against the backdrop of the US and British sponsored coup d'etat in Iran in 1953, is a beautiful art film weaving together the lives of four women. Munis is 30 years old and kept under virtual house arrest by her brother who refuses to let her out until she married. Faezeh, in love with Munis' brother is vulnerable in the climate of violence and change, Zarin, a severely underweight prostitute constantly scrubs herself in public baths until her skin bleeds, and Fakhri, an older woman is trapped in a loveless marriage with a General. She has lost the poetry and music which had been at the centre of her life beforehand.
Suicide, rape and sexual violence, prostitution and a failed marriage, bring the four women - outcast by society - together in the garden of an orchard outside Tehran (the movie was actually shot in Casablanca, Morocco).
Although the subject matter of the film is 'heavy' the beautiful cinematography and the themes running throughout the film infused with magical realism (the dirt road out of the city, water, music, death) make the film a pleasure to watch. A short film of 95 minutes, it is definitely worth watching.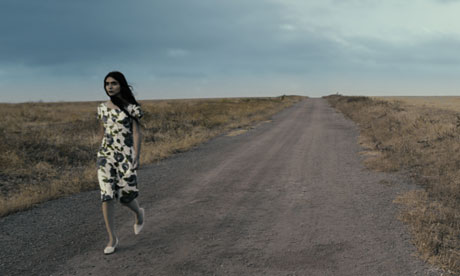 The director - artist Shirin Neshat has been exiled from Iran since 1996. On her first feature film she stated: 'I'm not interested in making a beautiful picture, I'm only interested when beauty is intersecting pain and disturbance and violence'. An accurate description of this breathtaking film.